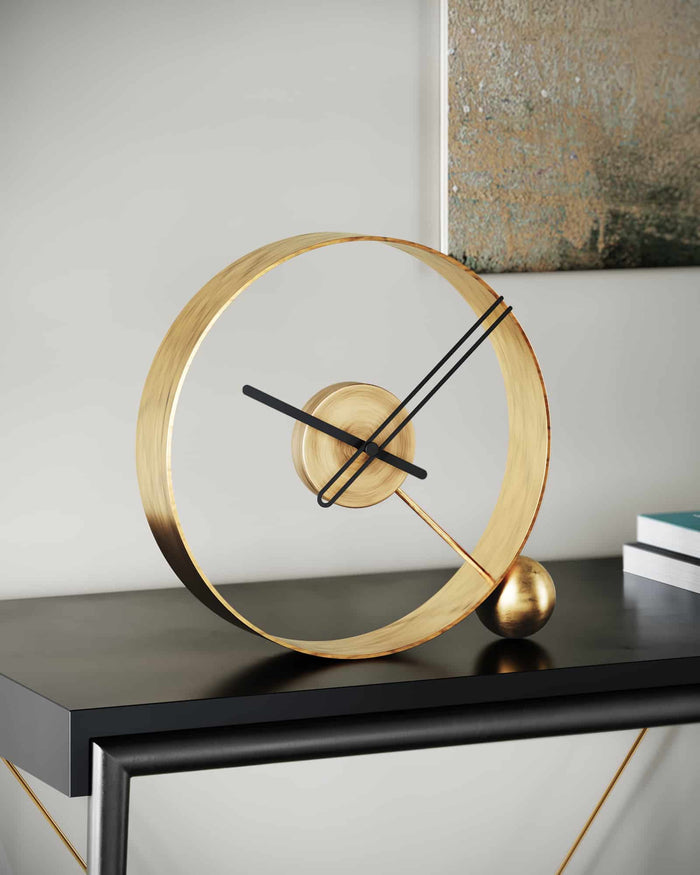 Modern Wall Clocks: Timeless Elegance for Every Space
Modern wall clocks enhance the appeal of your living room with their stylish and artistic designs. They can add a sophisticated touch to your living space while providing a minimalist aesthetic.
The Mclocks Store offers a wide range of unique designs, from metal creations with an industrial chic feel to wood wonders that add warmth and rustic appeal. Designed with simple shapes and high-quality metal, the clock's high torque mechanism produces an impression of silent wall art.
What are Modern Wall Clocks?
Modern wall clocks are timepieces that add a contemporary hint to their surroundings. In modern clocks, decorative aspects take precedence over the clock functions. In addition to being simple and minimalist, they can also serve as a major focal point. In modern living room wall clocks, innovative materials such as metal, glass, and wood give the clocks a unique appearance. Their numbers or hands may be oversized or have unusual shapes. Typically, they feature clean lines, simple shapes, and bright colors or patterns.
What Sets Modern Wall Clocks Apart from Traditional Ones?
What Sets Modern Wall Clocks Apart from Traditional Ones? Modern wall clocks differ from traditional clocks primarily because of their minimalist structure and sleek design. These clocks also differ in the 4 following ways:
Modern wall clocks can be made of various materials such as metal, wood, marble, ceramic, and glass, but traditional wall clocks generally have wooden bases.
In contemporary wall clocks, abstract patterns create different styles, whereas in classical wall clocks, woodworking dominates the design.
High-torque quartz mechanisms allow modern wall clocks to have very large hands. A classic wall clock usually relies on standard-sized hands.
In wall clocks modern, the pendulum is merely decorative (in some models), while in traditional clocks, it is the most striking and important component.
How Do Modern Clocks Work?
Modern clocks vibrate at fixed intervals and produce a fixed frequency through an oscillator. Quartz crystals are generally used in these oscillators. The oscillator's vibrations are counted and converted to electrical pulses through another mechanism.
A quartz crystal vibrates 32,768 times per second. Watch hands rotate at a constant speed due to vibrations transferred to a motor. As a result of this motor's movement, the clock's hands move, and the clock runs. The modern digital wall clock also contains a quartz mechanism but only differs in its display.
What Materials Are Commonly Used in Modern Wall Clock Designs?
Metal is the predominant material in most modern wall clocks. Modern technology makes it possible to shape and design metal easily for a stylish wall clock. Stainless steel and aluminum are particularly attractive since both are affordable and can be coated to your preference. However, modern wall clocks can also be made from many different materials, including wood, plastic, glass, ceramic, marble, and epoxy.
How Do I Choose the Right Size of a Modern Wall Clock For My Space?
A wall clock's preference should be based on the room's dimensions. In small rooms, a diameter between 10 and 20 inches is sufficient, depending on the size of the room. However, you can consider a wall clock with a diameter of 25 to 35 inches for larger living spaces. With their compact structure, large modern wall clocks in modern styles don't overcrowd your room.
It is also important to consider how far away you will be seeing the wall clock when determining its size. An oversized modern wall clock may not be useful for you if you look closely. A small wall clock would be more suitable if this is the case.
A Wall Clock for Every Style
When choosing a modern wall clock, try to choose clocks that can be compatible with all decoration ideas. Here are some suggestions for you:
Gravity

Despite being a small wall clock, this clock with a long arm offers an impressive style. Its long arm keeps the clock away from the wall, allowing the shadow of the clock to form on the wall. This creates a sense of depth, giving the impression of a clock hanging in the air.

Pendulum Plus

This modern pendulum wall clock is a great idea if you want to decorate a large wall. It is like a decorative piece of wall art. With a large wall clock, you can decorate your empty walls. In addition, you still maintain a minimalist aesthetic.

Orbit

Orbit is a great solution for those who want to maintain the modern style but feel the influences of classical design. In addition to the long pendulum used in this mid-century modern wall clock, the combination of wooden and metal parts creates an elegant look.
Can Modern Wall Clocks Also Function as Decorative Pieces?
Yes, wall clocks can be decorative as well. A modern wall clock can complement an existing decoration. You can combine them with mirrors, paintings, or photos. You can choose a customized wall clock and a wall clock based on your mood and taste.
With modern wall clocks, you can add a colorful and artistic touch to your space and a sophisticated and classy look with metal or stainless-steel wall clocks. Additionally, wooden wall clocks can achieve a rustic look with a modern touch. In our selection, you can find many modern clock designs representing the most iconic home decor pieces.
What Types of Movements Do Modern Wall Clocks Use?
Clock movements vary depending on the type of wall clock; some of the most common types are:
Quartz Movements:
The most common mechanism in wall clocks is the quarts mechanism. The working principle is driven by the vibration of the quartz crystals powered by batteries. With today's high-torque quartz mechanisms, it is possible to produce wall clocks on a large scale.
Mechanical Movements:
Mechanical clocks operate through steady mechanical energy obtained by compressing a pendulum or spring with a weight as a source of power. In these clocks, mechanical movement is transferred to the clock's hands, and the clock is operated.
How Do I Ensure That a Modern Wall Clock Complement My Existing Décor?
It is most important to consider the style and theme of your room when choosing your modern wall clocks. The wall clock should be in harmony with the overall appearance and feel of the room. A metal wall clock with fine lines can transform your living room into a modern space. You can choose classic and ornate design wall clocks for a more classic look.
Furthermore, your wall's color and texture are important factors to consider when choosing a wall clock. You can choose a wall clock in contrasting colors. While bright clocks are perfect for dark-colored walls, you can create contrast with bold colors for light-colored walls.
Finally, you should consider the dimensions of your room when choosing a clock. A wall clock's size should be based on its viewing distance.
Are There Oversized Modern Wall Clocks Available for Larger Rooms?
Yes, you can find oversized modern wall clocks for larger rooms. Oversized wall clocks include 24-inch and larger wall clocks. There are also extra-large wall clocks of 35 inches and above. As a prominent focal point, oversized wall clocks can be a statement piece in your room.
Where to Get a Modern Wall Clock?
No matter what your budget is, you can find a wall clock online or in local shops. There are thousands of products available on online sales platforms. However, your options will be quite limited when it comes to handmade wall clock sales platforms with modern lines. With its combination of craftsmanship and superior material quality, Mclocks provides a large selection of unique modern wall clocks. All of our designs have gained great appreciation and sales figures in tens of thousands across the globe.