Unique Wall Clocks for Living Room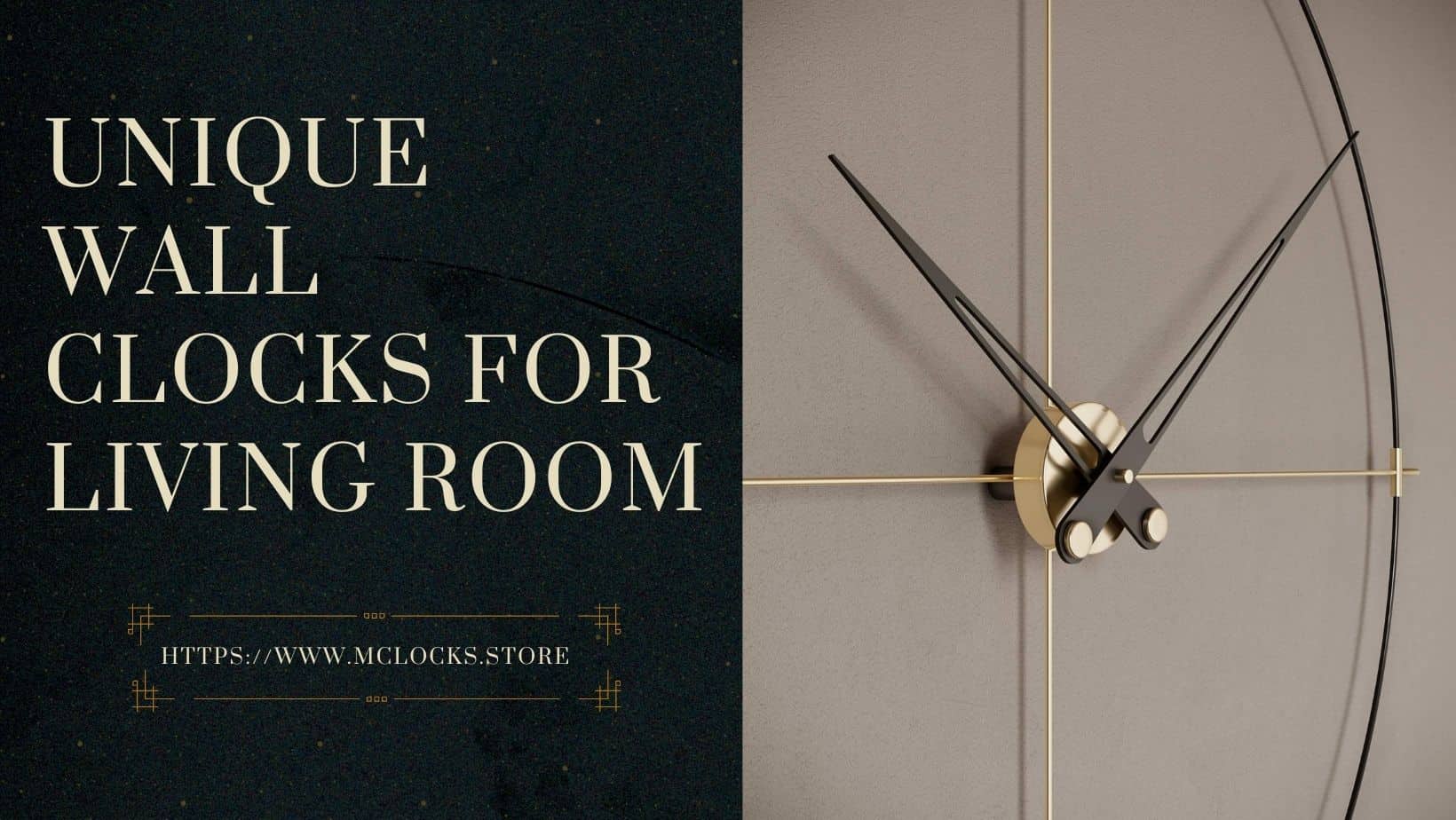 Unique wall clocks for living rooms are in such high demand that they were once not very popular, despite their necessity. Today, wall clocks can be found in a variety of styles and models since they are more decorative than functional. 
Everyone has a unique idea for decorating their walls, and there are too many styles and designs available to garnish them. However, wall clocks have remained popular for years and never went out of style.
Unique Clocks for Wall,
With this article, we aimed to provide you with a fresh perspective on wall decorations by showing you unique clocks for walls. Here are some stylish wall clock models;
Serenity Unique Modern Wall Clocks
With Serenity Minimalist Wall Clock's 11" and 17" diameter and 47" and 63" length options, your walls will appear thin and elegant from top to bottom. Thanks to its silent quartz mechanism and premium finish, this wall clock will make you love your home more.
The unique modern wall clock comes in 7 different color options for the body and rope parts, so you can choose the combination you prefer. You can also request a little more customization from our customer service representatives if you wish to do so.
Infinity Unique Clocks Wall
Infinity Luxury Wall Clock is offered with 11" and 17" diameter and 25" and 35" length options, and it will look like a simple and elegant painting on your walls. By choosing contrasting colors for the body and rope parts of the Infinity unique wall clock you can create a stylish wall clock.
Timeless Unique Wall Clocks
The Timeless Unique Wall Clock is a wall clock placed in a double-layered circle made of premium finish on stainless steel. In the design of the clock, an emphasis has been placed on the perception of depth and size.
To further increase the attention of the Timeless wall clock, contrast colors are selected for the body and center parts. This wall clock is available in 23", 35", and 43" sizes and 9 colors to brighten up the most valuable corner of your home.
Orbit Unique Wall Clocks
Orbit Unique wall clocks are modern, minimalist wall clocks designed for wood lovers. It may be a reason to love your living rooms even more.
There are a variety of colors available in this model, including woody colors such as walnut and oak and more modern colors such as gold, black, and silver. 
Eternal Unique Wall Clocks for Living Room
The Eternal Wall Clock offers you simplicity and immensity at the same time with its 23", 35", and 43" and 4 different color options. because of its large size, the thin circles surrounding the watch increase its attractiveness through their contrast.
Probably it's hard to imagine a more stylish clock for your large spaces than this wall clock. To meet this unique clocks wall at very reasonable prices, feel free to contact our customer representatives.
Where is the Best Place to Put Unique Wall Clocks in Living Room?
This question may have different answers depending on the type of wall clock you use. There are a few methods of hanging wall clocks that are not too large.
It should be hung at a height between 55"- 60" from the floor.

If possible, the top of a sofa or table that attracts the most attention can be preferred.

If this is not possible, the area with the most viewing angles would be ideal for hanging your wall clock.
Buy Unique Wall Clocks for Living Room Online at Mclocks.store
Mclocks is a wall clock designer and manufacturer that stands out with its unique wall clocks. All of our wall clocks are produced in our modern facilities with handmade and high-tech equipment. With innovative ideas for wall clock design, we have gained great popularity quickly and achieved high sales figures.
With the slogan,
"Quality for Everyone"
, we have set out on a journey to provide our products at the most affordable prices.