The Best Large Modern Wall Clocks for 2023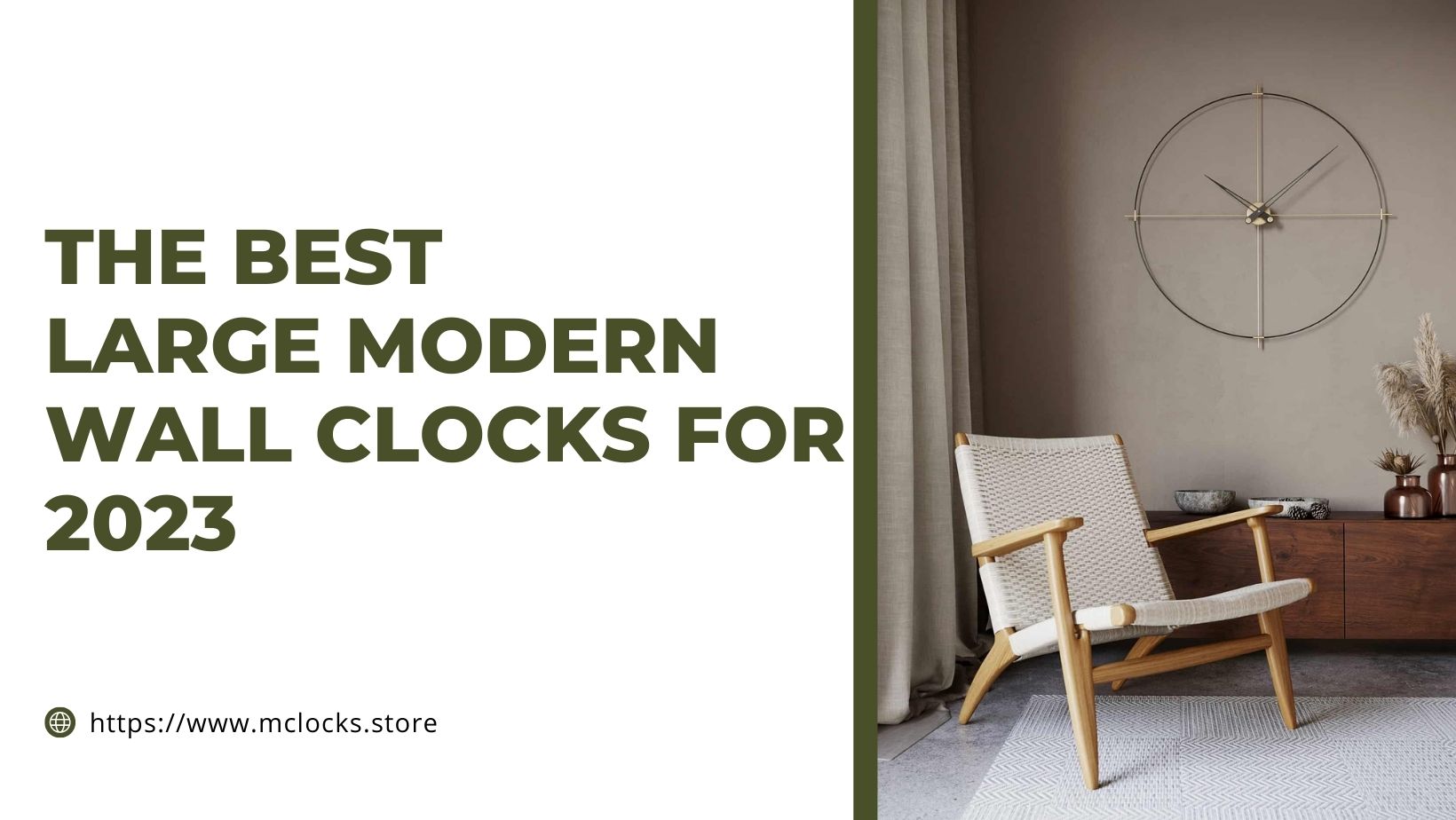 Do you need creative ideas while giving your walls a more elegant look? A large modern wall clock can complete the decoration idea you are looking for. With wall clocks, you can decorate your walls while adding functionality to them.
Let your walls move with these modern large wall clocks. It would be wise not to spend any money without examining these modern styles. The elegance and quality of your home do not have to be expensive.
Large Modern Wall Clocks
Here are some of the best large wall clocks we have chosen for you;
Serenity 17 inch Large Modern Clock
Classic wall clock models inspire the Serenity Wall Clock. Featuring a 47" length and a pendulum, it will almost completely cover your wall.
With options in brushed gold (titanium), brushed rose gold (titanium), black brushed silver, antique gold, antique silver, and black colors, you can find the model that suits your decor. This modern wall clock is constructed of stainless steel and has a silent quartz mechanism, as other models have.
Pendulum Plus 35 inch Modern Large Wall Clock
The Pendulum Plus Wall Clock makes modern lines more noticeable in the design. In this clock, the hour and minute hands move as if they were dancing on the thin ring made of stainless steel. This slim design gives the impression of a clock running in a pen-drawn circle on the wall.
A wall clock with a 23" and 35" diameter and different color options, this modern large wall clock is only for people who desire elegance. You can make room for elegance on your walls with Pendulum Plus. 
Timeless Extra Large Modern Wall Clock
Although the Timeless Modern Wall Clock Large has a design close to the Eternal Silent wall clocks, their double-layered rings made of stainless steel increase the perception of the clock's depth and allow the clock to show its presence more clearly.
Designed in 35" and 43" and with many color options, this extra large modern wall clock is a good way to show your investments in elegance.
Eternal 43 inch Large Wall Clock Modern
The Eternal Large Wall Clock models are available in 43", 35", and 23" diameters with different color options. This model is designed for those who value simplicity over exaggeration.
With Eternal 43, you can make your walls happier. Don't forget: happy walls make you happy.
Massive Simple 43 inch Modern Wall Clock Large,
The Massive Simple Living Room Wall Clock has a design close to the pendulum plus wall clock design. Pendulum plus has been simplified by removing the pendulum and hanger from the watch. It is an ideal solution for those who want to use Pendulum plus models in a simple style.
How to Mount a Large Modern Wall Clock?
For narrow and small spaces, you should also choose a wall clock that suits its size. It is important that wall clocks are displayed on the most visible wall surface, especially in large areas.
The wrong place selection will become evident, especially when the wall clock is hung too high or too low.
Buy Large Modern Wall Clock Online at Mclocks.store
As Mclock.store we only specialize in wall clocks. In addition, we focus all our attention on certain models of wall clocks. Our stylish designs have enabled us to become a rapidly rising wall clock company. Shortly after we put our first wall clocks on sale, we reached sales figures of tens of thousands. Our goal is to produce modern, stylish designs while using quality materials and offering them to our customers at very reasonable prices.