Decorative Wall Clock for Any Room of The House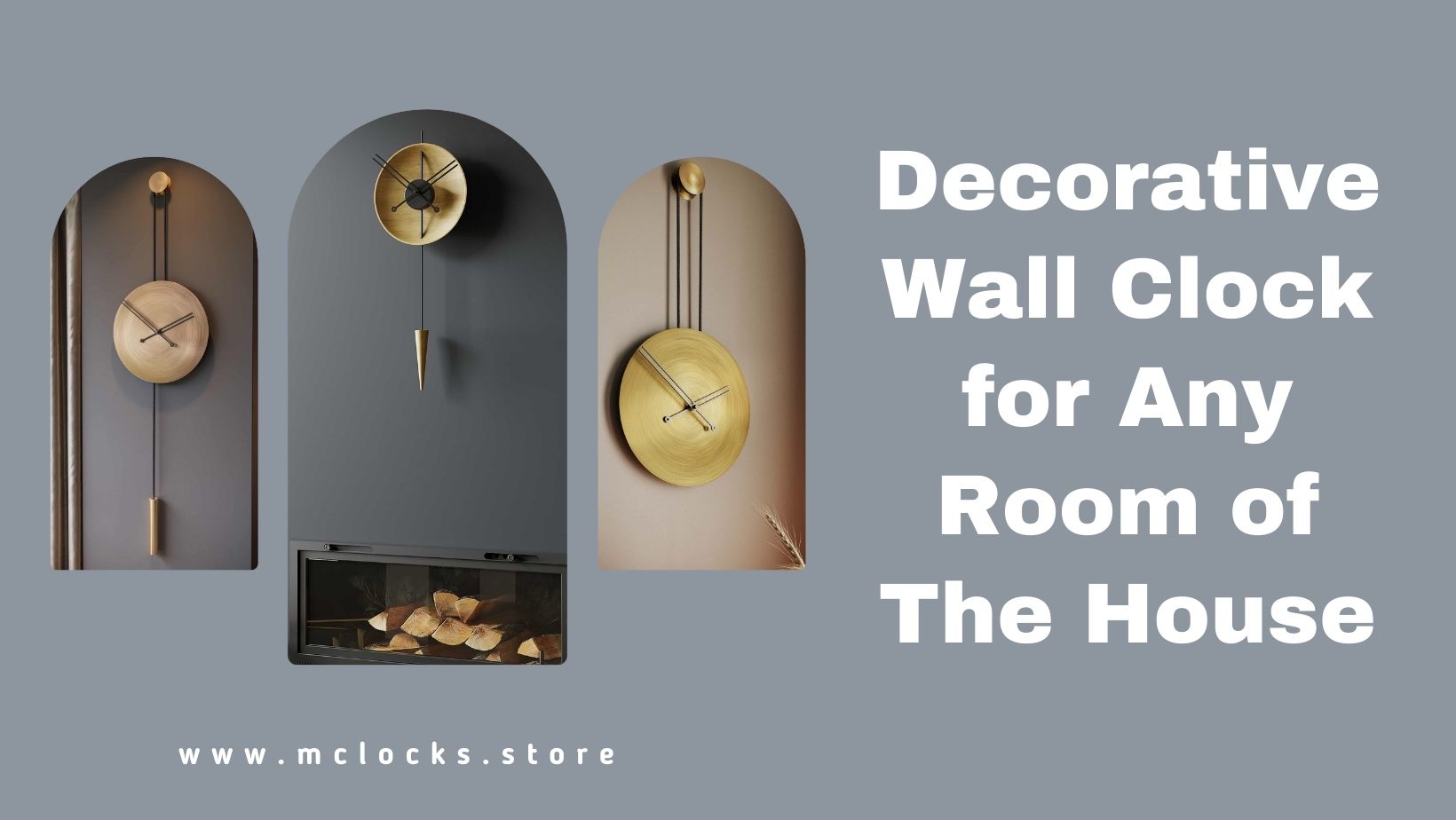 If you think decorating your home or office with decorative wall clocks is a good idea, you are in the right place. This article will introduce a few wall clocks with modern lines that have the potential to change your decoration ideas.
The elegant and simple look of wood and the appearance of stainless steel that symbolizes strength make these wall clocks one of our most assertive timepieces that will help you to find creative ideas for decorating.
What styles are Decorative Wall Clocks Available in?
Due to the lack of mechanisms with large arms that worked silently, classical wall clocks were made of wood with pendulums. Today, wall clock decorative can be made in the desired size and shape thanks to the powerful and silent operation of the quartz mechanisms. Here are some of the best decorative clocks for walls with wood and stainless steel in the foreground.
Orbit Wall Clock Decorative
The Orbit Wall Clock is an ideal option for those who want to feel the wood texture on their walls. Floating on a circular wooden tray, the clock's pendulum adds a sense of length, and its silently rotating quartz mechanism will do its job without you feeling it.
This wall clock allows you to choose wood finishes such as walnut and oak, or you can choose a color that matches your room with options such as black, antique silver, or antique gold.
Infinity Decorative Clocks for Wall
Stainless steel and titanium-coated, the Infinity Luxury Wall Clock comes in 11 inches and 25 inches diameter options. While Infinity is small and minimalist in design, this model can be a great decor for your living rooms as it is made of stainless steel and is durable. 
Timeless Wall Clock Decorative
This model is available in 23", 35", and 43" sizes and features a stainless steel double-layer circle surrounding the quartz mechanism.  With its depth perception and large and wide structure, the Timeless model is a good choice to proudly show your decorating ideas.
The model is available in nine different color options so that it can be customized to fit any interior.
Gravity Decorative Wall Clocks
The Gravity Wall Clock features an unconventional design that goes beyond the usual ones. Gravity is a good alternative for you if you want to add a little extraordinariness to your walls with its 15" diameter made of stainless steel.
In the Gravity Wall Clock, which is available in different colors, you can combine a minimalist design with a thin and long handle for a different perspective.
Serenity Minimalist Wall Clock
With its suspension section and pendulum, this model is offered in 47" and 63" lengths and comes in 11 inch and 17 inch diameters. Despite its minimalist structure, you can see the solid structure of stainless steel and the stylish stance of premium finish, which proudly reveal its presence to its visitors.
You can choose from a variety of color options for the Serenity Minimalist Wall Clock that matches all sorts of walls.
Buy Decorative Wall Clocks for Living Room Online at Mclocks.store
The Mclock.Store wall clocks have gotten lots of praise for their unique designs. With their modern style and classical inspiration, our decorative wall clocks for living room are an excellent choice for adorning the most valuable areas of your home or workplace. You can reach out to us and send your special requests to our customer advisors if you have any questions. 
Choosing the proper wall clock can help you come up with the right home décor ideas. Additionally, these tools perform an important service without breaking your budget.
For more wall clock models you can visit https://www.mclocks.store