Wall Clock Trends 2024 for Modern Interiors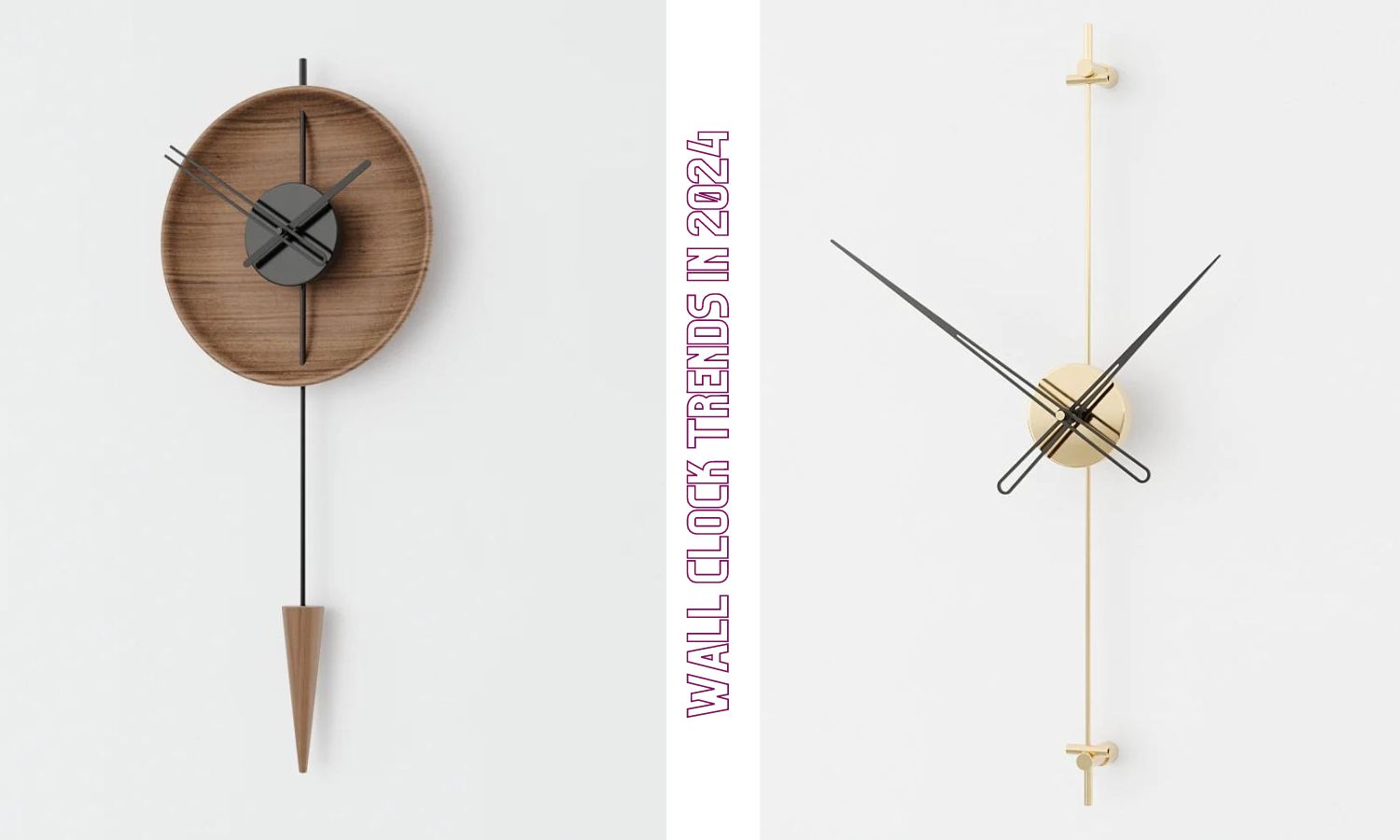 For interior design, trends constantly change and will do so in the future. These rapid changes are challenging to keep up with. So, it is wise to focus on timeless trends and accessories for interiors. To ease your effort to keep up with the trend, we concluded a detailed study about wall clock trends in 2024.
Despite the fact that the coronavirus has abandoned our lives, its effects still persist. The giant factories had to shut down, and the masters of new trends appeared on social media, enticing millions of people. Handmade products like farmhouse-style wall clocks reached the highest scale in 2020 and continued until 2022. These were years of natural products, old and rustic styles, and simple lines. 2023 broke this trend and introduced thousands of colorful, simple, but contemporary products.
2024 is a transition year from the vintage style wall clock to the modern style wall clock. To sum up the wall clock trends of 2024, we can say that wall clocks that are professionally made but look handmade are in vogue. This is true for each of the trending wall clocks in 2024.
In 2024, mass-produced wall clocks with intricate details that are similar to handmade products have seen a huge increase in sales. To determine wall clock trends in 2024, we looked at what Google search results said. However, we did not rely solely on Google searches; we also compared the sales of prominent online stores to spot the newest trends.
Art Wall Clock
Art wall clocks give modern homes a contemporary feel with their clean lines and colorful styles. Rather than having a standard design in their homes, many people would prefer something unique. Additionally, an art craftsman-style wall clock features multiple colors that complement any home's decor.
Large Wall Clock:
In 2024, maximalist decor ideas dominate most decor trends. It is no surprise that large wall clocks result from this trend. However, while mediocrity dominates 2024's large wall clock designs, the product's quality is clearly evident. Furthermore, there are also a lot of intricate large clock designs in 2024 as well. The reason is that large wall clocks are most often used as the centerpiece of a customer's decor.
Wood Wall Clocks:
Wood wall clocks have always been in style since their birth in the 17th century. However, they now come with evolved mechanisms. Wood wall clocks, in particular, gained popularity in 2020 and 2021 due to their quality craftsmanship. There are many different styles of wood wall clocks, including mission-style wall clocks, minimalist, maximalist, and contemporary styles. Nevertheless, the wood wall clock vintage style is the most popular.
Metal Wall Clock:
Metal's quality and its charming finish are the most significant things that entice customers to metal wall clocks. Stainless steel is the most common material because of its high-quality finish and durability. The latest advancements in laser cutting and finishing techniques make the metal wall clock look even more impressive. Affixed to the wall, stainless steel shines like gold jewelry as if it were the room's necklace.
The Popular Colors of Wall Clocks in 2024
Colors such as black, white, blue, and green are the top wall clock colors for 2024.
1. Black Wall Clock
To complement light colors or gray walls, black is among the most preferred wall clock colors of 2024. Black conveys a luxurious look and has an eye-catching appearance. Black's distinct and conspicuous style had a great impact on its popularity in 2024. It matches almost any decor and is a good choice for those seeking a home trends wall clock that stands out.
2. White Wall Clock
Those searching for white wall clocks usually favor simple and minimalist designs. While white may not be the focal point of the room, it enhances its style. It can combine well with both light and dark interiors. Most white wall clocks are mass-produced and made of plastic or acrylic.
3. Blue Wall Clock
Blue is another color that hits Google ranks for wall clocks. Blue wall clocks come in various materials. Shining blue gives a stylish look to metal wall clocks because it shows off beautifully. Besides metal, blue is also a popular color for wooden wall clocks. Despite their popularity for modern interiors, blue is also popular in rustic styles.
4. Green Wall Clock
Green is another popular wall clock color in 2024. Despite its popularity among mass-produced wall clocks, it is also popular among metallic wall clocks. The reason behind green's popularity in 2024 is largely due to its striking effect. Green is also a good alternative for those who want to make a focal point for their interiors.
5. Digital Wall Clock
With their unique features, digital wall clocks become another wall clock alternative in 2024. Many people prefer digital wall clocks because they come with features like alarms and calendars. However, their design has improved over the years.
6. Acrylic Wall Clocks
Acrylic wall clocks are another option for modern interiors. They are an alternative to plastic wall clocks. They feature a quality look while having intricate designs. Acrylic wall clocks have clear lines that enhance modern interiors.
7. Retro Wall Clock
Among hundreds of new styles, retro wall clocks also gained popularity in the 2024 wall clock trend. The style of retro wall clocks enhances the classical beauty of a room. It conveys the old-fashioned style of sailors' clocks.
Other Popular Wall Clocks of 2024
Other popular wall clocks that adorn modern homes are as follows;
Mid Century Wall Clock
During the 1950s, there were many famous wall clock designers like George Nelson. Even today, their designs are still popular and impress people.
Neon Wall Clock
With their vivid colors, neon wall clocks create a charming atmosphere. Even though neon wall clocks are unlikely to appear with new inventions in 2024, their old styles are sure to keep delighting homes.
Pocket Watch Style Wall Clock
The pocket watch style wall clock is another type of clock for retro-style fans. Their shape is unique, and they are designed like the old-style pocket watches. Their classic design fits well with classic interiors.
The new trends of 2024 bring a fresh perspective to wall clock designs. From country-style wall clocks to minimalist modern wall clocks, fashion enthusiasts are searching for something more artistic. We continue to witness big companies turn their products into more intricate designs in 2024. Our online store selection also showcases 2024's hottest trends. You can browse through there to see the latest trends.
image sources;