Top 14 Stunning Modern Wall Clocks Design Ideas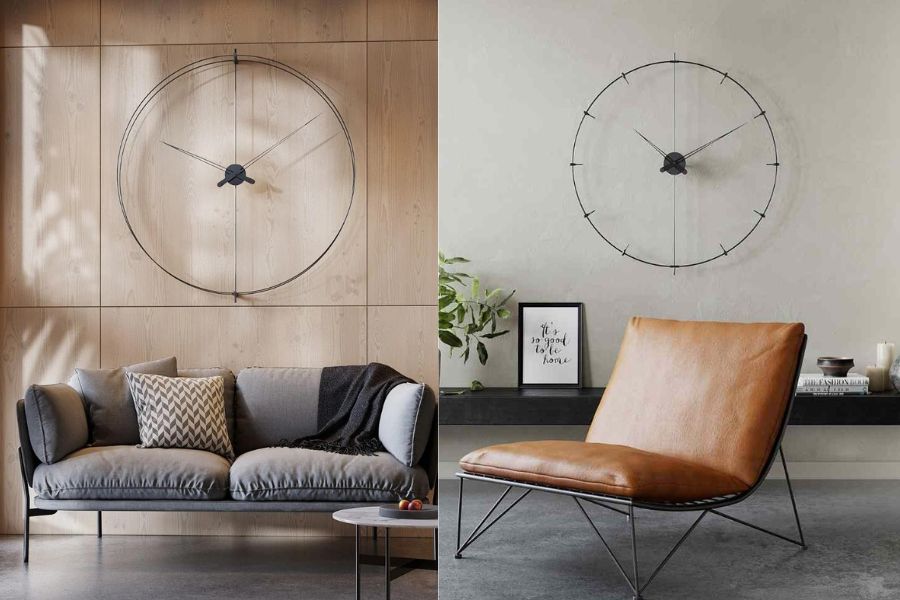 Walls are like blank canvasses that can be decorated with creativity and decorative items. Since wall clocks were invented, clocks have been used as decorative items. For over five centuries, they have been among the most essential items of adornment on walls. There are a variety of clock designs that can be displayed on these large canvases to showcase your creative ideas.
You can find a model that is suitable for any of your wall clock design ideas, whether you have a classic wooden decoration or a more modern and minimalist design. This article will provide a brief overview of wall clock models that may be customized with a variety of decorative elements.
1. Pendulum Plus
If you want a wall clock that you can place in your favorite spot in the house, then the pendulum plus wall clock is for you. Although the design is wide, the stainless steel and wood materials intertwined in it have a minimalist texture. For your guests, these modern wall clocks will surely be an item you can proudly display on your wall.
In addition to providing reliable functionality, these timepieces enhance the aesthetics of any room. The Pendulum Plus ensures silent operation and precise timekeeping with its high torque and advanced quartz mechanism. Its sleek design allows it to hang from a single attachment point on your wall gracefully. With the Pendulum Plus wall clock, you will enjoy a wide wall clock experience without obstructing your walls or blocking your view.
Mclocks offers you the opportunity to try the Pendulum Plus in 3D Augmented Reality before buying it. With Pendulum Plus, you can enchant your senses and elevate your living space to new heights.
2. Minimalist Oversize Metal Wall Clock
In this wall clock, the combination of 1.5 mm thick steel and rounded lines creates an excellent combination of aesthetics and function. The wall clock presents a minimalist aesthetic with irregular rounded lines and golden yellow hands.
With high-quality quartz movement, this clock operates quietly and efficiently. Powered by one AA battery, this product ensures a sound sleep without ticking noises. The clock hands are available in black, gold, or silver, adding to the sophisticated look. Due to its electrostatic powder coating, it is also suitable for outdoor use.
3. Wall Clock with Photo Frames
This clock is an excellent way to show off your family and add a statement. The wall clock is made from polypropylene and is scratch-resistant due to the high-quality coating applied to it. You can use it for many years, and it lets you remember every family member. A silent quartz mechanism makes it suitable for any room in the house, including the living room, kitchen, bedroom, office, etc.
4. Nelson Ball Clock
Originally designed in 1961 by the famous clock designer George Nelson, this clock is one of the most famous examples of his work. The design is still considered to be among the most contemporary wall clock designs. It was designed by George Nelson using hardwood, and adhered to the original dimensions. However, many models on the market claim to be of Nilson's design but are not compatible with the original dimensions. The wood craftsmanship in this Nelson's design is exceptionally high, and the wood texture is being felt.
5. Gravity Wall Clock
The Gravity Wall Clock is suspended on a long arm, leaving a 2-inch gap from the wall. The clock appears to resist gravity due to its design. Made of stainless steel, this design has an arm length of approximately 16 inches and a minute hand that measures 12 inches in length. This disproportionate design of the wall clock makes it a noteworthy piece of art.
You can hang the clock arm at any angle to have a different look. With a high-torque quartz mechanism, this clock is available in 7 different color options: polished gold, polished chrome, black, polished rose gold, shiny gold, shiny silver, and shiny chrome.
6. 3D Modern Metal Wall Clock
As a fashion trend, 3D wall art is becoming more popular. In this wall clocks ideas, which combines modern art ideas with a wall clock, the yellow and black metal components give the piece a stylish appearance from various perspectives.
With this wall clock design, you can create a luxurious atmosphere in your home. The dimensions of the wall clock are 37 inches wide by 17 inches high.
7. Concrete Wall Clock With Leather Stripe
The latest wall clock model you can imagine likely is one made of concrete. However, the design of this model, made from concrete with a special formula, combines simplicity and elegance.
The wall clock measures approximately 11 inches in diameter and is about 1 inch thick. The special formula of this product makes it extremely lightweight. There is only a weight of 3.74 pounds. The clock is offered with a silent quartz mechanism and can be used at home or at the office. The leather strap allows it to be easily and securely hung.
8. Marble Living Room Decoration Wall Clock
If you have a Nordic decoration, the wall clock design for the living room can add a stylish touch to your decoration. The clock has a diameter of 15 inches and is suitable for rooms that have light colors such as white and cream.
There is a wide range of marble-patterned wall clocks to choose from, so you will be able to find one that is suitable for the décor of your home. You can also get wall clocks made from real marble for a little extra money. However, many impressive designs are available with resin models as well.
9. Natural Modern Wooden Clock
This wall clocks design is simple for the fans of natural wood and showcases the natural texture of the wood because of steam drying techniques applied to it. This product's thin lines and simple design make it a favorite among wood lovers.
With a diameter of 12 inches, the clock has a silent quartz mechanism. You can use it as a stylish accessory in a living room or kitchen.
10. Compass Wall Clock
Crafted from stainless steel and equipped with a high-torque quartz mechanism, this compass-inspired wall clock is truly a work of art. It is available in three different sizes: 23, 35, and 47 inches, allowing you to choose the perfect fit for your space.
Despite its remarkable dimensions, this wall clock showcases a minimalist design that gives out a sense of refined elegance. The craftsmanship and high-quality finish set it apart from other accessories in any room. Its sleek appearance adds a touch of sophistication to any space, making it a standout piece. You can adopt a new level of style and functionality with this stainless steel wall clock that enhances your decor.
11. 3D Modern Wall Clock
This model might be just what you need for a customizable wall clock. The installation process is easier than you might expect. Peel off the clear tapes from the back of the hangers, and adhere the numbers and letters to the wall.
Crafted from acrylic material, this wall clock features a quiet quartz mechanism. You have the option to arrange the numbers in a larger circle for a bolder look, or you can opt for a more minimalist style by omitting some of the numbers. The choice is yours, allowing you to personalize the clock to your liking.
12. Rustic Wall Clock
You can add a rustic ambiance to your living space with this wall clock crafted from a 5.1x11.8" plywood layer. This clock is made from solid plywood, showcasing the authentic and natural wood texture. The plywood is produced with specialized techniques.
Unlike MDF (Medium-Density Fiberboard) alternatives, plywood exhibits superior structural integrity. The inherent qualities of this wood allow it to reflect the rich textures of the wood's natural beauty.
The wall clock has a simple yet elegant design, complementing the aesthetics of your room with a charming rustic allure.
13. Acoustic Wood Wall Clock
Experience the captivating allure of wood with this wall clock model, meticulously crafted through the angular cutting of wooden cubes. This clock's design accentuates the wood's inherent lines and natural beauty. With a diameter of 15 inches and a depth of 2 inches, this wall clock showcases a rustic look without overwhelming your space.
Equipped with a silent quartz mechanism, this timepiece ensures tranquility without any distracting ticking sounds. The clock is constructed with fir wood, which has clear wooden lines that add a touch of visual interest. The angled cut pieces of this wood wall clock showcase its captivating patterns from every perspective.
14. Gold Resin and Black Walnut Wall Clock
The nature of wood and the abstract patterns of resin exude a truly unique piece. The clock has also been finished with high-quality wood wax and lemon oil for a beautiful look. This quartz-driven clock, which is 20 inches tall and 9 inches wide, will delight your guests. While quietly performing its task, it appears as if a drop of water is falling on your wall.
There are thousands of different types of clocks on the market. We tried to offer you a different perspective by focusing on different designs. The place where you will use the clocks and the decoration of that place must be considered when selecting your style. A stainless steel wall clock from Mcloks is ideal for modern rooms, while a wooden clock suits classic settings.
Wall clocks have been a part of home decor for many years; therefore, when selecting clocks, ensure they complement your home decor and will be functional.