21 Inspiring Table Clock Ideas for Stylish Home Decor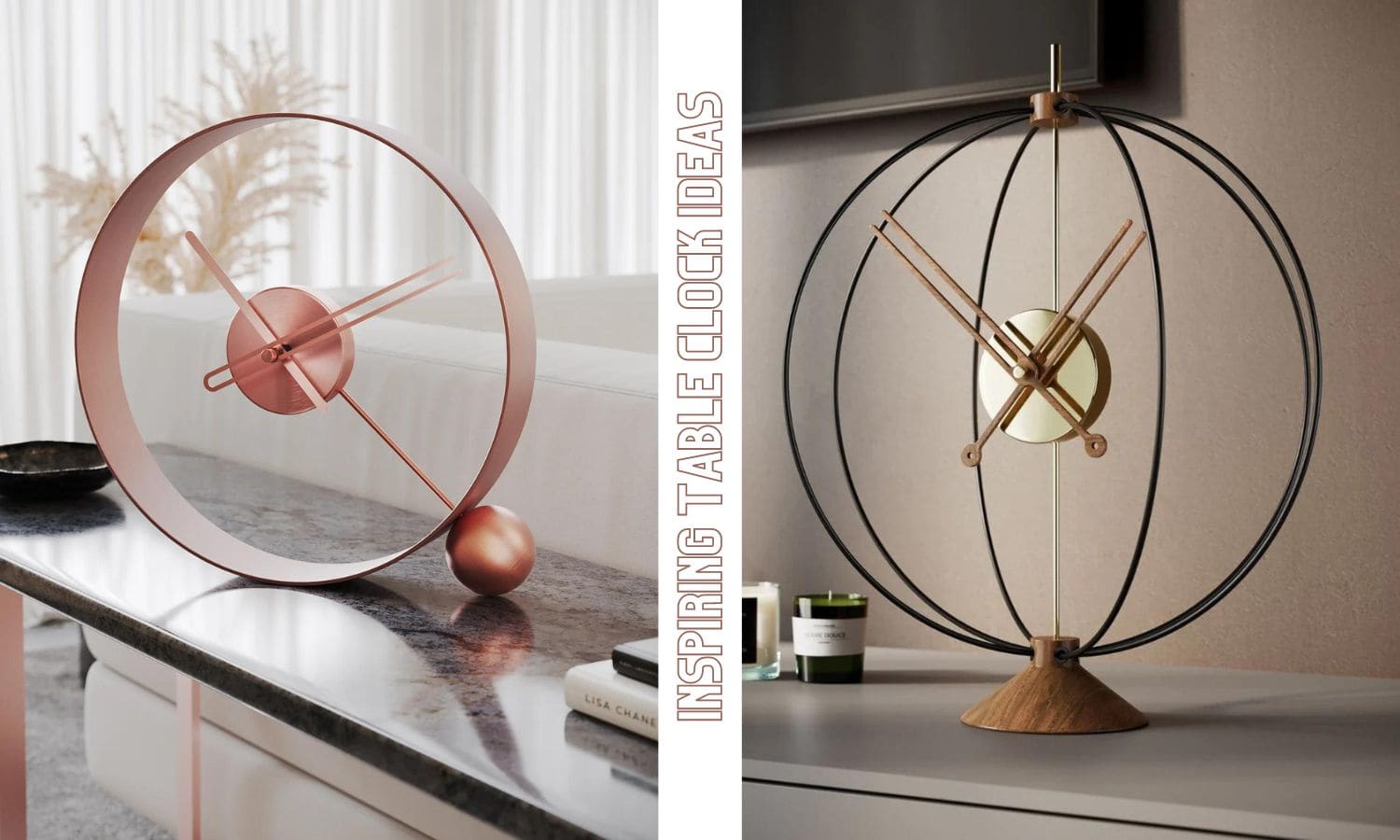 Clocks were among the most important elements of offices, houses, and even cars to keep track of time. Humankind relied on clocks to know when to go to work, meet their friends, or deliver letters or packages.
In time, many types of clocks have been developed, ranging from the table clock ideas, which are smaller items to decorate our desks, to the clock towers that became a symbol for many cities.
However, technology has diversified the time-keeping units, and now, you do not have to look for a wall clock to watch the time. Instead, you can just turn on your TV or even go to your kitchen to check the time on the oven display. Nevertheless, clocks are still a great decorative addition to any house or office with elegant and eye-catching designs.
In this post, we have gathered an extensive list of 21 inspiring table clock ideas to provide insight to enrich your room's or office's ensemble.
Why You Should Buy a Table Clock?
Even though mobile phone technology provides us with all-time-reach to follow the time or set the alarm to wake up early, it is still a big source of distraction next to your bed with untimely calls or notifications as well as the health risk of cell phone radiation as stated by the experts at Berkeley.
Hence, replacing your mobile phone with a digital clock for a table in your bedroom will greatly change your life by decreasing the stress and harmful effects of technological devices.
Furthermore, tabletop clocks offer a remarkable advantage that mobile phones cannot achieve: Decorative Elegance. There are numerous options for desk clocks with stylish designs, and you can surely find a proper one that will match your room's decoration while enabling you a close watch of time.
Table Clock Ideas to Explore
When you search on the internet, you will see a vast range of desk clocks with various designs and styles, and it can be rather difficult to find the right thing for your needs. Hence, we have created a list of 21 inspiring table clock ideas for stylish home décor.
Classic Elegance
Traditional or vintage table clocks remind of iconic clocks that were crafted to be placed on a mantel or fireplace in the 18th or 19th Century with classic design elements. Mostly bearing Roman numerals, these vintage desk clocks have wooden or metal construction with finish in brown, gold, or gray hues. Our selection includes 3 pieces that showcase the beauty and elegance of vintage design.
This classic table clock features a Victorian-style design and combines a vertical clock with a horizontal compass. It boasts a traditional look with brass construction and a worn-out finish.
Featuring a round-the-clock in metal construction, this desk clock also has a miniature cello playing scene to enhance its contribution to your decoration.
Produced by a century-old company, this metal table clock features an eye-catching shiny look with a polished brass exterior as well as a golden-colored finish. In addition, it is equipped with soft-ticking noise to minimize the disturbance in your sleep.
Minimalist Modern
Minimalism has been building a widespread appreciation and popularity in almost every aspect of life, and gradually, more and more people prefer simplicity and minimalism as an extension of "Less is More" understanding. Modern table clocks are not an exception to this, and we present three minimalist table clock ideas for you to explore:
This digital clock for a table merges a minimalist table clock idea with natural beauty. Showcasing a simple and plain front with only an hour display in white numerals, this decorative table clock has a triangular shape
Designed to add elegance to your living room with eye-catching elegance, Endless Table Clock features a deep perspective through a clock circle which is designed with a blank clock face. Furthermore, it is made from steel and wood and boasts an elegant look with a brushed finish in various colors to create a focal point on your sideboard.
Presenting a simple but gorgeous design, this desk clock is skillfully manufactured and made from concrete. Moreover, it only has hour and minute hands on the empty clock dial that is placed on an abstract design.
Rustic Charm
Rustic table clock ideas focus on models that display particularly aged or distressed finishes on natural materials, primarily wood. Showcasing mostly neutral colors such as whites, browns, and grays, these items offer a rugged texture as well as a vintage appearance, like the ones listed below:
This desk clock showcases a chic appearance with a rustic vintage design that will bring a farmhouse vibe to your room. Having a compact design, this vintage desk clock will help you create a cozy atmosphere.
When you need a rustic table clock idea, you are always recommended to check the handcrafted options such as this one. Featuring a circular design, this clock is made from wood and has two round supports at the bottom. Its appearance is also enhanced with a weathered green finish.
Having an understated design with a square shape and a bell-type handle, this one is a good table clock idea to furnish your dresser with a distressed finish.
The Industrial Aesthetics
Industry, which contributes to creating a better and more habitable world, is also a significant inspiration for table clock ideas, which feature gears, pipes, and other industrial elements, and you can see our selection here.
Inspired by science fiction, this desk clock has a cylinder-like design with pipes, springs, and cables, and the clock is added to the design as a part of the machine-like body.
This industrial clock has a unique design with a gas pump look with relevant details like pump hose, and price counter. The design is also enhanced with a car drawing in the middle of the clock dial.
This clock is designed with additional versatility with a built-in lamp as well as an eye-catching round clock.
Showing a unique style with 30-year-old bulbs, this industrial clock offers an eye-catching appearance with a dazzling illuminated time display.
Patterned upon the atom structure, this elegant desk clock has three round lines that resemble the electron orbitals or shells. The minute and hour hands are installed on the clock face, which is round to represent the nucleus of an atom.
Artistic Expressions
When you decide to add a decorative clock to your room's decoration, you should take a closer look at the artistic table clock ideas, which can take your house decoration to a higher level with sophistication and style.
Inspired by the iconic artwork "Persistence of Memory" of famous painter Salvador Dali, this desk clock is certainly a hit to bring an extra vibe and elegance to your house.
Depicting one of the most important and famous paintings in Japanese history, this table clock merges versatility with functionality to create an attractive piece to decorate your living room while enabling you to easily watch the time.
Nature-Inspired
Nature is also a source of inspiration to create table clock ideas that will spruce your house with chic and stylish pieces.
Designed to bring Sunrise next to your bed, this nature-inspired table clock has sun-like illumination and alarm-clock feature to help you get up naturally to be more relaxed and energetic during the day.
The Moon is also a part of our lives, just like it affects the world in many aspects. Therefore, we include a moon-like table clock design idea that is also designed to emit a warm light.
Whimsical and Playful
Table clock design ideas are not only perfect for enlivening your living or bedroom, but they are also ideal for adding charm to your kids' room with beautifully designed models.
This table clock features a funny appearance with a dinosaur shape in green. The clock face also has dinosaur figures. It also has a night light as well as an alarm clock feature.
Creativity lets us combine functionality with table clock design ideas, as clearly seen in this piece. Displaying vivid colors to be a nice piece for a kids' room, this playful clock features removable numbers in various shapes, making it an efficient teaching tool.
You can also resort to table clock ideas to create an excellent gift to be remembered always. This analog desk clock has a wooden clock face, which can be personalized with your preferred typo, figure, or writing.
Final Word
Despite the domination of smartphones to show us all the time in your house, table clock design ideas helped revive the clocks as decorative items to enhance your house decoration.
They can make a remarkable difference when placed on your entry table or mantelpiece to dazzle your guests. Or, you can create a focal point in your living room with a stylish design or spruce your kid's room with a playful look.
Sources;