How to Choose A Wall Clock For Living Room?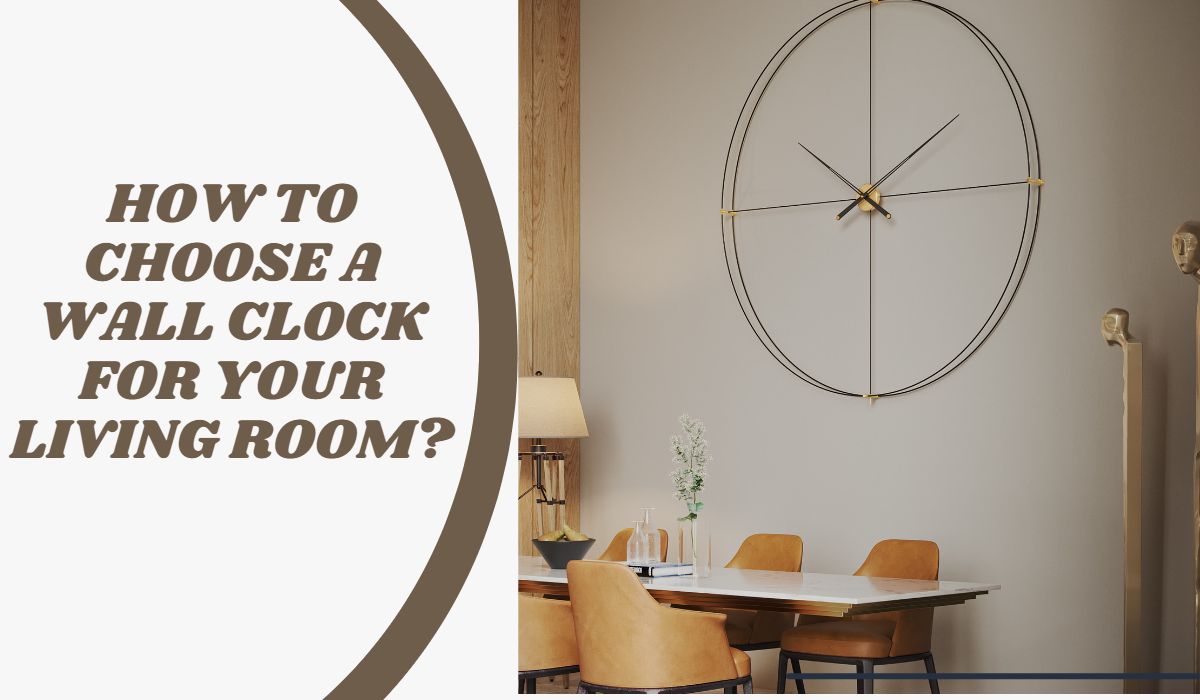 Whether you are a very stylish person who wants to add a nice and elegant touch to your room with wall clock for living room, or you just like simple and sweet accessories in your surrounding areas; it is essential to bear in mind the new designs/technologies that are coming up to fit your house. Wall clocks are being designed to be in different sizes, with different materials and colors. Therefore while deciding on the best option that suits your office/home, try to match it in your head with your own taste and aesthetics first.
What is the Most Common Feature of a Wall Clock for Living Room?
While deciding on the most important feature of a wall clock for living room, just check the environmental region that your house is in. If you live in a humid environment, especially near the seaside, and if you have chosen a material made of walnut or oak, the durability and longevity of the wall clock will fail due to the air's moisture.
Therefore wooden products are for dry environments like mountain tops, big cities, and rural areas. The stainless steel wall clocks that Mclocks manufactures will show high quality and have a long lifetime, especially if you are buying a product for your summer house and/or near the seaside.
You can visit https://www.mclocks.store/collections/wall-clock to review more wall clock for living room
What Size Wall Clocks for Living Room Should You Choose?
Whether you are purchasing a small or large wall clock for living room, it does not matter how big your room is. Of course, you might want to preserve space for proportionality for smaller rooms by buying a small wall clock. However, if you are thinking about the theme and want to buy a large wall clock for living room, you might want nothing but a big wall clock hanging from your wall. No matter your decision, just make sure you can read the time from every corner of the room without having any problem.
If your room is tiny and you want to make it look bigger, choose decorative wall clocks that are made of shiny metals. If your room is large and you want to preserve the size, just choose an oversized wall clock for living room. If it is a medium size room, do not ever choose a small wall clock that can disappear and go unnoticed before anyone remembers to look at it.
What Colour Should My Wall Clock Be?
Actually, the color fully depends on the taste of the homeowner. If you are a showy person who wants people to notice the new additions to your house, the shiny metallic colors are just for you. Mclocks' shiny gold, shiny silver, and shiny rose gold options are like built and designed for you. However, if you like plain designs that will add elegance to your surrounding areas, non-bright colors should be your choice. Mclocks matt black and matt gold wall clock designs will serve this purpose for this option.
Where Should You Place Your Wall Clocks for Living Room?
In addition to deciding the most important feature and the size of choosing the best decorative wall clock for living room, you should also take into account where to place the wall clock in your room.
The most important thing is that the decorative wall clock must be visually accessible within the room and should be at eye level of the average height of a person.
If it is a medium or a small wall clock, you can add photo frames and/or paintings just near the wall clock according to your wish. Since it is a small accessory, it won't hurt to brush the appearance up with little touches like other wall decorations.
However, if your room is big and you have placed an oversized wall clock on your wall, it is crystal clear that you want the eyes on the clock but nothing else. Do not make the room boring and gloomy by adding anything else near it. Make a large wall clock to maintain the ambiance with its simple and sweet appearance.
Of course, these are the only piece of advice that you can get from another mind to help you make the best choice. If your decision changes and you want to replace and/or add another item next to your wall clock, you can always replace the item you bought within the given time with another item from Mclocks.
Buy Wall Clocks for Living Room Online at Mclocks
Whether it is a small, medium, or large decorative wall clock, you can choose different types of wall clocks from Mclocks' large variety of specially designed options. Mclocks Store has a handful of different options you can choose from for yourself and your loved ones. The products that you are purchasing will be durable and have high quality. You will not have to think of the durability and lifetime of the wall clocks once you shop from Mclocks.
In addition to high quality, the customer support service is readily available to answer your questions or concerns regarding our products 24/7. You can always contact them without hesitating through +1 661-888-80-50.
We believe you will enjoy using our wall clocks as much as we enjoy bringing them to your door.
You can visit www.mclocks.store to buy more wall clocks with discounted prices.