The Office Wall Clock Tips and Advice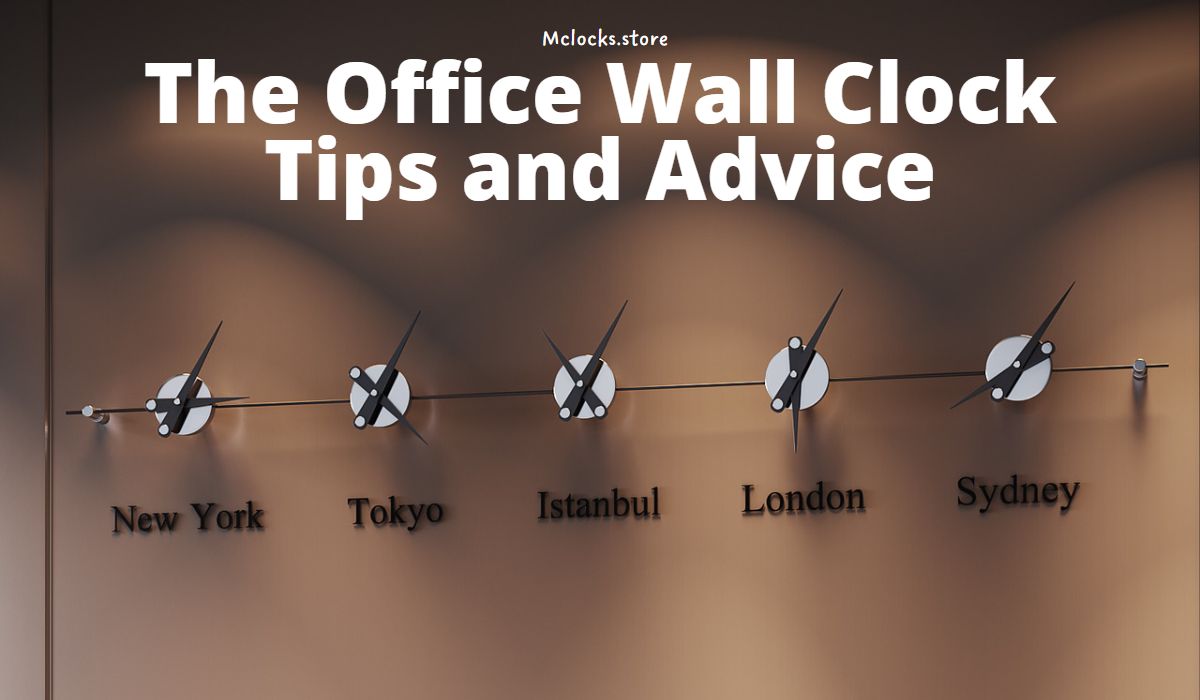 The wall clock accompanies the first moments of the existence of the working environment. Today, contrary to first sight, the office wall clock has increased in importance, and it also has become troublesome to find the perfect one among the unlimited options. So, this review will help you decide which office wall clock is right for you and let you know what features you should consider in order to find the best wall clock for your office.
Office Wall Clock
The 21st century, whose style is functionality, innovation, and aesthetics, has led to transformations in the structure of all places as well as in the office. In this manner, the wall clocks, an indispensable part of the offices, are also transforming in this direction.
The office wall clocks, which have existed since the creation of the office's first space, are now an easy way to keep track of the time without looking at a distracting phone. It is also very important that it creates an atmosphere of harmony. Also, modern office wall clocks, which provide a pleasant and nice appearance in every part of the office, are among the crucial decorations.
Even sometimes, office wall clocks, which are complementary decoration products that have the power to affect the ambiance of the environment with their elegant appearance, can be the most important component of the office.
You can visit https://www.mclocks.store/products/analog-wall-clock-world-clock to review more wall clock for office
Things to Consider When Buying Office Wall Clock
Before buying an office wall clock, it is necessary to know how it differs from the normal wall clock and what features stand out. It should also be noted that research clearly demonstrates that a harmonious office environment significantly increases productivity. In this manner, it has been highlighted enough of its importance; without further ado, let's start with choosing the area it will be used on and talk about the things you need to think through.
After determining the area where the office wall clock will be hung, there are many things to consider when choosing the model, such as compatibility with the usage area, size of the wall to be hung, and compatibility with furniture colors. For example, if you are planning to hang a wall clock on a large wall of your office, large office wall clocks will be just for you.
It is also very important that you make a choice that is compatible with the style and colors of the furniture in your office space. If you prefer office wall clocks that are compatible with both the color of the wall and designs of sofa sets or other decorative items, your workspaces will have a more aesthetic appearance. In the frequently asked questions section below, further details will be given, and the model you want in your mind will become clearer.
FAQ on Office Wall Clock
How do I choose an office wall clock?
Choosing a good office wall clock can be seen as a simple and not worthwhile action. But it must be chosen functionally and aesthetically to use your time efficiently and be a good decorative part of your office. The things that will make you choose the best office wall clock are to consider the design of your office, the features you expect from a wall clock, and your budget.
After taking all these into account, you can choose the one that fits your style and budget among many wall clocks by minimizing them with the filtering method. The websites of office wall clock brands will be very useful in this regard. Thus, you can access more wall clock types and choose the most suitable one for you in terms of aesthetics, functionality, and price.
Also, taking a look at the reviews of users who have already bought the modern office wall clocks you want to choose is a very useful way to decide if the product is really the best for you.
What is The Best Material for an Office Wall Clock?
The best material for office wall clocks may vary depending on which feature of the wall clock is more important to you. The best material may vary depending on whether the wall clock for the office is more durable, more aesthetic, or more functional. What you need to pay attention to in this regard is that the wall clock is made of quality materials.
In addition, the material of the wall clock should be in harmony with the design of your office. For example, if you have a large office, it would make much more sense to use large office wall clocks and vice versa. In addition, the material selection of the wall clock for office is also related to what kind of atmosphere you want to add to your office. For example, metallic materials are quite suitable for a modern look. For a cozier place, wooden materials can be preferred. By evaluating the product range of the brands, you can find modern office wall clocks made of both quality and aesthetic materials.
What Makes A Good Office Wall Clock?
Many features make an office wall clock preferable. Especially considering that time is important for an office, a good office wall clock should be simple and comfortable to use above all else.
The wall clock should be easily placed where you want to place it in your office. Therefore, the wall clock for office you choose should have a design that is easy to install and requires less space for mounting. Also the fact that the office wall clock works silently is also a plus. In addition to its functionality, the modern office wall clock should have a stylish and eye-catching design to complement your office design. It should be in harmony with today's minimalistic design concept.
In addition, a good office wall clock should be made of durable materials suitable for long-term use and have a quality appearance. Thus, the wall clock can be a permanent and aesthetic part of your office design.
How Much Should I Spend on an Office Wall Clock?
Your budget determines how much you should pay for a wall clock for office. Determine the type of wall clock for office you intend to buy and create a budget accordingly. Then consider the material of the wall clocks and whether they are aesthetically worthy of your price. While doing this, following a comparative path will ensure that you do not miss the most suitable wall clocks in terms of price performance.
Maybe it's possible to get better office wall clocks by paying more, but it's worth paying attention to. Because a higher price does not always mean a higher quality and aesthetic office wall clock.
Buy Office Wall Clock Online at Mclocks
Considering all these mentioned features with its expert design team, Mclocks works for the best. You will increase the coherence you have created in your office with Mclocks' wall clocks and increase the productivity of you and your employees. You can visit the wall clock collection of Mclocks, which includes many modern office wall clocks, and find the one that is closest to the wall clock in your mind, which is shaped by the details given, and the most suitable one for your office.
Mclocks reinterprets classic looks with modern office wall clocks and helps you achieve that desired atmosphere for your customers. If you have questions, you can easily get in touch with the customer support line: +1 661-888-80-50
Also, if you need customized order, please contact us before the order.
Let modern office wall clocks of Mclocks help design your working space harmonized and aesthetically.
You can visit www.mclocks.store to buy more wall clocks with discounted prices.