Why You Should Have A Wall Clock: 10 Benefits of Wall Clocks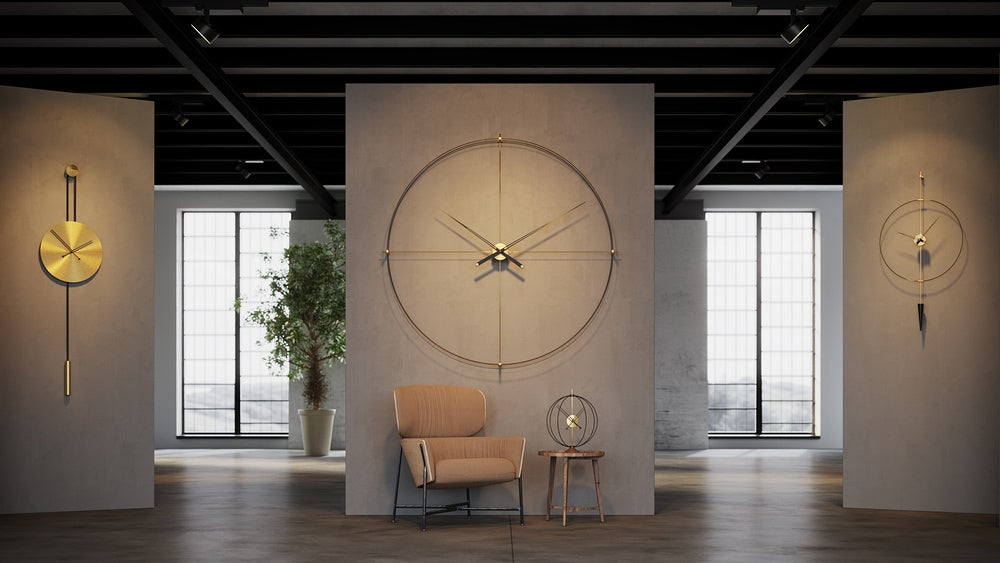 The benefits of wall clocks in our homes are numerous. Filling an empty wall and adding balance to the decor or the living spaces are some of these benefits. As valuable accessories, wall clocks become the focal point of the living space. They come in various styles and models, including retro, modern, minimalist, and antique designs. Having such a wide selection makes it easy to find one and pair it with our decor.
A wall clock, on the other hand, serves as a practical tool that allows you to keep track of time without the added distractions. But a wall clock is more than just a practical tool - it can also add to the overall aesthetic of a room. In this article, we'll explore the top 10 benefits of having a wall clock.
Why Is A Wall Clock Important?
There are several wall clock benefits that you may not have considered before. Here are the top 10 reasons why you should have a wall clock:
1. A Good Decoration Idea
Wall clocks are designed by artists as works of art. When you buy them, you are not just getting a functional time-telling device but also a work of art crafted by such artists or inspired by their works.
This is why clocks are excellent tools for decorating your home or office, and with them, you will be able to come up with magnificent decoration ideas. Whether you prefer a classic or modern style, bold or minimalist accessories, or simple designs, you can easily find a wall clock that suits your individual preferences.
2. Wall Clocks are Great for Decorating Large Walls
It may not be easy to decorate large walls and create a harmonious look with home decor. While wall paintings or picture frames can provide some solutions, wall clocks remain the best option for decorating these walls, which are always in sight as the house's focal point. Big walls usually have mirrors, TVs, and fireplaces on them - our daily necessities. But adding a cool clock is a great way to complete their look.
Discover how to choose a wall clock that complements your home decor and aligns with your personal taste!
3. Customization
Personalization is easier with modern wall clocks. Some clocks come with details where you can place family photos, while with others, you can choose the size and color to match your room's decor. Also, some clocks let you get creative with their insides. You can put pictures of your loved ones underneath.
4. Compatibility Across All Spaces
No matter which room you are looking to decorate, whether it's the living room, kitchen, or bedroom, you can find a wall clock that matches your style. With endless options available, you can choose from a wide variety of designs, ranging from wooden and rustic to modern and innovative. Mclocks has a wide range of stylish and bold wall clock designs for you to choose from, so take a moment to check them out.
5. Time Management
If you want to be productive in your daily life, you gotta manage time successfully. You can keep track of the time with wall clocks so that you won't lose track of it. They are super handy in all kinds of situations. By keeping an eye on the clock, you can stay on top of your schedule and don't miss anything. They are universal, so anyone can easily understand them and can handle the uses of clocks.
6. Sentimental Value
Wall clocks are not just time-telling machines, they can last for years thanks to their solid construction. If you get a good quality one with a sturdy mechanism and materials, it can make great heirloom gifts to pass down to your fam or friends. With their ability to both enhance the look of a space and provide a functional purpose, wall clocks are truly a timeless addition to any home or office.
7. Ease of Portability
Buying a wall clock is always a safe bet. If you wanna switch up your home decor, you can just move it to a different spot. They're easy to carry around and find a new home for, so no need to stress!
8. Peaceful Movement
While wall clocks quietly perform their duties, their movements remind us that time is moving. These movements serve as a constant reminder that time doesn't stop even when everything else does. 
9. A Model for Every Wallet
With so many wall clock models available, there's something for every budget. You can start with a cheap plastic one as a quick fix and then upgrade to something fancier and more durable later on.
10. Durability
Wall clocks are durable products. If you've purchased from a quality seller, they can fulfill their duties for years without requiring any maintenance. And if anything does go wrong, you can easily fix them up or replace the insides.
There are even more advantages of wall clocks. If you're in the market for a wall clock, take some time to research and find a high-quality one. Mclocks creates unique clocks with top-quality materials that are built to last. The quartz mechanisms used in our wall clocks require no maintenance and are super reliable.
We design our clocks and manufacture them in our own production facility with great care. You can find a sturdy and long-lasting clock in our designs that goes beyond the simple timepiece.